Things To Think About Before Booking
Research
This is probably the most important thing, and it's definitely something I wish I had done more of my first time. My first lip enhancement was a total disaster – the practitioner inserted way too much filler, and in all the wrong areas, so instead of a perfectly plump pout, I ended up with lumps and bumps and a very odd shaped set of lips as he didn't understand my original lip structure. Please learn from my mistake; read our reviews, study our pictures, and most importantly book in for a free no obligation consultation to meet face to face before booking your enhancement. I know it's tempting to be led by price but you really want to make sure your practitioner knows what they're doing.
It may take numerous treatments
When it comes to lip enhancements, I make sure all my clients take it slow to avoid overly filled lips that you may regret. We offer 0.5ml lip enhancements for clients who are unsure of the desired look or just needing small top ups, as no-one wants to come out looking like the below!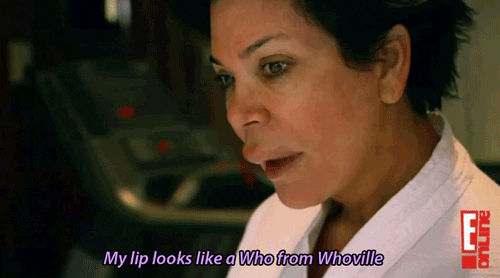 Before you even make your appointment, you need to think long and hard about how you want your lips to change.
We get a lot of clients visit us having visited other practitioners feeling like they've wasted their money as their lips haven't changed enough or have changed too dramatically.
For really noticeable differences multiple treatments will be required, we only ever inject 1ml at a time for lips to ensure they are not overfilled or left looking lumpy.
Prep before your appointment
The week before your appointment it is advised to not take any aspirin, anti-inflammatory medication like ibuprofen or aleve, fish oil, multivitamins or vitamin E. Each of these vitamins or medications will thin your blood and can cause major bruising post-appointment. It's why it's also best to avoid alcohol or caffeine 24-hours before and after your appointment as this will help reduce swelling.
The procedure is super quick and the results are almost instant
The appointment usually only takes an hour and to be honest a lot of that hour is your in-depth consultation so I can get an idea of what you really want. Although you'll be able to see the results pretty much straight away, do expect some bruising – they won't be selfie ready immediately, although any swelling should go down within 3/4 days.
Be aware of the risks
As lip fillers are often referred to as a lunchtime procedure, people assume it's completely risk-free. There's still a possibility of an allergic reaction and it could lead to an infection. If you're prone to cold sores, having lip filler could trigger one, so it's best to take cold sore medication three days before your treatment.
It's not cheap
The thing is, lip fillers aren't permanent and they usually only last for 6-9 months. If you like the effect and continually get your lips plumped it can get a little costly. 1ml starts at £150, and it can actually be quite an addictive process; it's usually never a one-off, so consider how much you could be spending if you're paying that much once a year and ask yourself if you can really afford to spend that on your lips.
The effects can be reversed 
I've got to admit that the first time I ever got fillers, I ended up getting them dissolved as I didn't do my research. But that's the good thing about  hyaluronic acid-based fillers, you can get the effects dissolved with hyaluronidase, quickly and safely, if you decide they are not for you. I am trained and insured to dissolve fillers in case of emergencies.